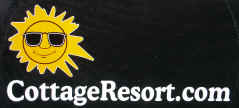 your Easy to Use Directory for Ontario Cottages, Inns, Lodges and Resorts
MORE COMPLETE than Any Other Website

Ontario ATV and ORV Adventure Getaways - All Terrain Vehicles, Off Road Vehicles
SEARCH for Ontario Resorts, Inns, Lodges, Cottage Resorts:
All-Season Cottage Rentals (Haliburton Highlands) 705-754-1506
Imagine a cottage surrounded by logging roads and over 640 km of forest trails which are groomed for snowmobiles in the winter. Haliburton Highlands is an ATVer's paradise! Once you tried ATVing in Haliburton, you'll never want to go anywhere else. A wide selection of privately owned lakeside cottages ranging from luxury executive cottages to basic waterfront cabins. Fully equipped kitchens, BBQ, TV/VCR, telephone, fireplace. Some include washer/dryer, dishwasher, row boat, canoe, paddleboat, plus more. www.sirsams.com/cottages
Andorra Lodge (Temagami) (705) 569-3288
Combines nature and beauty with peace and solitude. Modern two and three-bedroom "log cabin" cottages, screened-in porches, satellite TV, wood fireplaces. Fish for Lake trout, walleye, pike and bass. Sandy beach, Sauna. Canoe, Kayak, Motor boat rentals. ATV Trails. Excellent Meals in our Lodge. www.andorralodge.net
Barry's Bay Cottages (Barry's Bay, Algonquin) 800-218-0738
Tastefully renovated, 2 & 3 bedroom lakefront cottages on beautiful Carson Lake. Close to Algonquin Park. Private decks, docks, fire pits. Hot tubs, fireplaces, satellite TV. Canoeing, fishing, beach, children's play area, ATV, snowmobile trails and more. Open year round www.barrysbaycottages.com
Bayview Wildwood Resort Severn Bridge, Muskoka 800-461-0243


4 out of 5 Rating Trip Advisor.com ATV tours only 90 minutes from Toronto - Book a lakeside resort getaway and jump on an ATV tour of the Canadian Shield wilderness right from your doorstep. Enjoy lakeside dining, indoor/outdoor pools, beach & water-park, games room and boating.
Birch Lodge (Blind River) Toll-Free: 866-807-3334
4 season Cottage Resort on Granary Lake (Magog Lake) surrounded by mountains and beautiful scenery. Fully equipped cottages, wood-burning stoves for heat, propane BBQ, 870 feet of shoreline, sandy beach area, great swimming, canoeing and boating, hiking or mountain biking on the trails, ATV trails and Guided Tours. Fishing and hunting. Winters offer ice-fishing, snow shoeing cross-country skiing, and snowmobile trails www.birchlodge.ca
Blue Moon Retreat (Bancroft/Barrys Bay, Algonquin Park) 800 659 9448
Luxury cottages on peaceful lake; private hot tubs & saunas, Jacuzzis, water trampoline, kayaks, canoes, paddle boats, fireplaces, AC, DVD players, WI-FI & more all at no extra cost. 4 for 3 and 3 for 2 Specials year round. A few openings for 2nd half of August Click here to see vacancies.
Bonnie View Inn (Haliburton, Lake Kashagawigamog) 1 800 461 0347
Two hours from Toronto, Timeless beauty and luxurious comfort. Family vacations, golf, heavenly spa escapes, romantic weddings, honeymoons, resort conference facilities. Jacuzzi Suites with fireplaces, private lakefront cottage rentals, hiking trails, golf packages, sand beach, gourmet dining in a beautiful lakeside dining room. ATV Trails, Winter snowmobile and ski www.bonnieviewinn.com
Booker's Clear Lake Cottages (Emsdale) 705-636- 5354
Located on Clear Lake, just 15 minutes north of Huntsville on Hwy 592. Ride from Kearney to Parry Sound on the famous Seguin Trail. We offer 2 & 3 bedroom cottages, all with full facilities and some with cable TV and gas fireplaces. Give us a try you won't be disappointed. All cottages are non smoking. www.clearlakecottageresort.com
Buttermilk Falls Resort (Minden) 888-368-3147
Welcome ATV enthusiasts!! Come explore over 300 km of crown land trails, with legal county road access. Plenty of on site parking available. After a day on the trails, relax in our fully equipped cottages and indulge yourself in our large wood-fired hot tub at the edge of the lake . Visit our web site for more information and rates www.buttermilkfallsresort.com
Carpenter Lake Cabins (Bruce Mines, Sault Ste Marie) 705-805-0520
A network of forest roads and trails are great places to explore by ATV. Fishermen can use ATVs to access remote brook trout lakes. In fall, ATV trips can be combined with small game hunting. www.carpenterlakecabins.com
Elmhirst's Resort(Keene) 800-461-1940


4 Stars Canada Select Recommended Housekeeping cottages on Rice Lake Open Year Round, Fall Colours, Winter Packages and Wilderness Tours Bird watching, hiking and mountain biking available on site. Our trails are well marked and each program is offered with a guide throughout the week.
Forest Rock Resort (Muskoka Lakes) 705-769-3641
4.9 out of 5 Rating Facebook Reviews Family & Pet Friendly Resort with rates starting as low as $1295/wk for waterfront cottages and $495/wk for studio cabin. One of Muskoka's best values for newer cottages and one of the nicest private beaches in Muskoka with 1300 ft. Shoreline & Shallow Entrance for Swimming. Complimentary Kayaks, Canoe, Paddle Boards; Marina Facilities, Motor Boat & Dock Rentals. Kids & family summer activities. GROUP, SPRING & FALL SPECIALS AVAILABLE. Discover the Magic of Muskoka at Forest Rock Resort. Visit us at https://www.forestrockresort.com
Golden Eagle Camp( Elk Lake, New Liskeard) 705-565-2566
Four season vacation retreat. Cottages are fully equipped with 3-4 piece baths (one with jacuzzi tub), kitchens, BBQ's, microwaves, heated with airtight wood stoves and some with electric heaters. Sauna. Home cooked meals available. Fish for walleye, northern pike, small mouth bass, perch and trout. Hunt for bear, moose rabbit and grouse. Endless miles of bush trails, logging roads and hydro lanes are at your door step
(
Northwest Muskoka, Georgian Bay, MacTier
)
Toll Free:
877-243-1059
A small, family owned, all-season cottage resort in beautiful Muskoka/Georgian Bay area just 2 hours north of Toronto. We have five clean, comfortable, lakeside housekeeping cottages with gas fireplaces and satellite TV. Easy access to miles of scenic trails on 1,000's of acres of crown land and powerlines
www.healeylakelodge.com
Hidden Cove Cottage Resort (Bancroft) 613-474-3284


5 out of 5 Rating Trip Advisor.com Hidden Cove Cottages are located just 35 mins from Bancroft on Lake Weslemkoon. We offer 4 updated cottages, boat rentals, docks and boat launch. Miles of trails, great fishing Zn18, hunting WMU61. You will love this area for the scenery and wildlife. Call 613-474-3284 or check www.hiddencovecottageresort.com Listed with 5 stars on Trip Advisor
Kanipahow Wilderness Resort and Outpost Camps (Chapleau) 888-643-6678
On the Chapleau River next to the Chapleau Crown Game Preserve, catering to fishing, hunting and outdoor enthusiasts Walleye, Northern Pike, Small Mouth Bass, Lake Trout, Brook Trout Jumbo Perch and White fish, Fully equipped modern housekeeping cottages, Bring your ATV, fully serviced camp ground for RV's, tents and trailers. www.kanipahow.com/
Lakeview Motel (Haliburton) 705-457-1027 866-385-9347


4 1/2 out of 5 Rating Trip Advisor.com Centrally located in the Haliburton Highlands. 14 clean comfortable non-smoking rooms at this family run motel, all with fridge, microwave, coffee stations. Private outdoor hot tubs, heated pool (summer), onsite trails and extended parking. Breakfast available/ licensed dining by request. www.lakeviewhaliburton.ca
Minnehaha Camp Resort (Port Loring) 877-933-2267
Family Vacations, Fishing on Wilson Lake, Pickerel River. Walleye, Bass, Northern Pike, Lake Trout, Pan Fish. Swimming, sandy beach, paddleboats, boat and motor rentals. Lakefront self catering cottages with 3 pc bath, kitchen, electric heat, satellite TV. Store for groceries, fishing supplies. Pets Welcome. Open May to October www.minnehahacamp.com
Moose Horn Lodge (Chapleau) Toll Free 877-864-5416


4 1/2 out of 5 Rating Trip Advisor.com 4 hours drive from Michigan and 9-10 Hours from Toronto and... its worth it! On beautiful McLennan Lake, remote wilderness region, Chapleau River, Chapleau Crown Game Preserve, Log style Housekeeping cottages, Motel Units with efficiency, 4 piece bath, beach, playground, canoe, paddleboat, Black Bear Viewing, ATV Trails, Bear and Moose hunting, some of the best Walleye, Northern Pike, Whitefish and Brook, Speckled Trout Fishing in Canada!, a big Hot Tub on the water's edge, steam Sauna www.moosehorn.net
Northern Lights Resort (Loring) 888-387-9991
Family and Sportsman's Vacations. Located on Little Long Lake with 40 miles of waterway on the Pickerel River system. Modern housekeeping cottages, sandy beach, fishing, hiking trails, boat & motor rentals. Canoe trips on the Wolf/Pickerel River route. 3 1/2 hours north of Toronto. www.northernlightsresort.on.ca
Okimot Lodge (Crystal Falls, Tomiko Lake) 888-286-6456


5 out of 5 Rating Trip Advisor.com
*ATV Poker Runs* for registered guests in spring and fall.
Poker Runs on old logging trails in the Tomiko Lake area north of Lake Nipissing. Fully equipped cottages right on natural sandy beach. All cottages with BBQ, picnic table and fire pit. Various ATV packages with or without Poker Run. Maps, gas, parking and ATV washing station.
www.okimot.com
Riverland Lodge & Camp, Madawaska (Algonquin Park) 613-637-5338
Licensed, Black Bear Lounge, American Plan, Accommodation & Meals, Bed & Breakfast, rental units, camping. Year round recreation, fishing, swimming, boat rentals in the Madawaska River, ATV. & snowmobile trails,15 minute drive to Algonquin Park. www.riverlandlodge.com
Rocky Crest Golf Resort (Lake Joseph, Muskoka Lakes) 866-323-3305
With Bear Claw Tours just minutes away, relax in our hot tub after a fun-filled day on the trails. ATV enthusiasts beware, Muskoka's outcroppings aren't just scenic. www.rockycrest.ca
Sand Lake Cottages and Inn ( Kearney near Huntsville ) Hosts: Steve & Danette 416-419-3415 or 705-636-5047
Lakefront Cottage Resort with Hot Tubs and Wood Fireplaces - Internet Provided, ATV Getaway, ride right from cottage, parking available for trailers . 2.5 hours from Toronto, landscaped gardens, clean, quiet and friendly services, massage therapy, satellite tv, dvd player,vcr with movies, boats, campfire wood, sunsets, large decks with patio furniture and barbecue, shallow sandy beach. 7 chalets & cottages from 2-10 people. www.sandlake.on.ca
Sid Turcotte Park (Mattawa) 705-744-5375
Superb Cedar Cottages with over 2000 feet of water front, a fabulous destination where you can enjoy fishing, boating, swimming, hiking, ATVing, golfing, shopping and more. We have beaches, playgrounds, high dive, water log, boat rentals. Open year round, our cottages have all the comforts of home! www.sidturcottepark.com
Springwood Cottages (Kennebec Lake, Arden) 1.866.241.0842