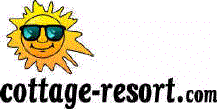 your Easy to Use Directory for Ontario Resorts, Camps, Cabins, Cottages, Inns, Lodges and Cottage Resorts
MORE COMPLETE than Any Other Website
Click here for other Ontario Accommodation HOME
Ontario Trout Fishing Getaways
Tomahawk Resort (Sioux Narrows) 800-465-1091


4 1/2 out of 5 Rating Trip Advisor.com Located on Lake of the Woods, Full-service lakeside resort with something for everyone. Fully-furnished deluxe lakefront 2, 3 and 5 bedroom cottages, Houseboat Rentals, R.V. Park & Marina. Complete fishing packages, hiking, swimming, or relaxing, pedal boats, kayaks, and boat rentals are available. www.tomahawkresort.com
Barry's Bay Cottage (Barry's Bay, Algonquin) 800-218-0738
Home to bass and lake trout, Carson Lake and nearby Trout Lake offer visitors a chance to land a lunker. Boat rentals and ice huts available. The clean, modern cottages and après fishing hot tub are hard to beat. www.barrysbaycottages.com
Carpenter Lake Cabins (Bruce Mines, Sault Ste Marie) 705-805-0520
More than a dozen deep clear lakes in our area are home to brook trout and lake trout. The lakes can be reached by driving cars or ATVs or portaging. Guests have free use of boats on these lakes. www.carpenterlakecabins.com
Bobs Lake Cottages ( Maberly, Godfrey, Kingston) 215-546-7131
Five cottages on a wilderness lake. Take them all, sleep 33 and dine together. Weekend or week. Contemporary designs, large chef's kitchen, a wheel chair accessible unit. Pet Friendly. Rent pontoon or speed boat, fishing guide. Ice fishing in winter. Three of our units are open in the winter for a total of 7 bedrooms and seven baths. www.bobslakecottages.com/
Sandy Lane Resort (Minden, Halls Lake, Haliburton Highlands) 800-461-1422
Stay at Sandy Lane's deluxe self-catering cottages with wood burning fireplaces, satellite TV, WIFI, AC, Private hot tubs "under the stars". Games Room for hours of endless fun. Lake trout in Halls Lake and Big Hawk Lake. Whitefish, and Herring are in Boshkong Lake. For all your fish hut rentals Krista's Baits n Bites www.sandylaneresort.com
Barry's Bay Cottages (Barry's Bay, Algonquin) 800-218-0738
Home to bass and lake trout, Carson Lake and nearby Trout Lake offer visitors a chance to land a lunker. Boat rentals and ice huts available. The clean, modern cottages and après fishing hot tub are hard to beat. www.barrysbaycottages.com
Sherwood Inn (Lake Joseph, Port Carling) 866-844-2228
<![if !vml]>
<![endif]> 4 1/2 out of 5 Rating Trip Advisor.com With so many natural waterways, the fishing opportunities are endless. Spend your day catching bass, pike, walleye, lake trout and panfish. At night, enjoy relaxing by the water in a Muskoka chair. Dock space is available. www.sherwoodinn.ca
Rocky Crest Golf Resort (Lake Joseph, Muskoka Lakes) 866-323-3305
With so many natural waterways, the fishing opportunities are endless. Spend your day catching bass, pike, walleye, lake trout and panfish. At night, enjoy relaxing by the water in a Muskoka chair as you drink in the sky's splendour. Dock space available. www.rockycrest.ca
Moose Horn Lodge (Chapleau) Toll Free 877-864-5416


4 1/2 out of 5 Rating Trip Advisor.com 4 hours drive from Michigan and 9-10 Hours from Toronto and... its worth it! On beautiful McLennan Lake, remote wilderness region, Chapleau River, Chapleau Crown Game Preserve, Log style Housekeeping cottages, Motel Units with efficiency, 4 piece bath, beach, playground, canoe, paddleboat, Black Bear Viewing, ATV Trails, Bear and Moose hunting, some of the best Walleye, Northern Pike, Whitefish and Brook, Speckled Trout Fishing in Canada!, a big Hot Tub on the water's edge, steam Sauna www.moosehorn.net
Hidden Cove Cottage Resort (Bancroft) 613-474-3284


5 out of 5 Rating Trip Advisor.com Hidden Cove Cottages are located on Lake Weslemkoon, Ontario. Our lake trout are a unique genetic species native to our lake, very different from most ontario lakes. We also have an awesome bass fishery. Clean updated cottages in a remote quiet area. Boat rentals available. See our site for info at www.hiddencovecottageresort.com or call us at 613-474-3284
Bevaline Cottage Resort (Barry's Bay, Trout Lake) 1-888-205-7912 1 613 756 2614
Open Year Round 1/2 hour from Algonquin Park. Modern cottages and cabins, campsites, friendly pets are welcome, safe, sandy beach; boating and canoeing, fishing - lake trout, pickerel, whitefish and bass, children's playground, swim raft. An ideal spot for young families with small children. www.bevalinecottageresort.com
Northern Walleye Lodge (Dog Lake, Missanabie) 877-434-2440
Fish beautiful Dog Lake, for Walleye, Northern, Lake Trout, Small Mouth Bass, perch and some white fish. 9 well spaced out log and framed cottages. Lots of bays, islands and fingers to fish, with awesome views. Fair prices . Formerly Camp Missanabie www.northernwalleyelodge.com
Cedars of Lake Eugenia (Flesherton, Beaver Valley) 800 747-7014


4 1/2 out of 5 Rating Trip Advisor.com Speckled or rainbow trout Eugenia Lake has both, even some brown. Near the dam try fishing from shore, motor boat rentals available. Open year round, family oriented. Each unit includes firepit, propane BBQ, wood burning fireplace and cable TV. Sandy beach, complimentary peddle boats and canoes, and outdoor heated swimming pool. www.cedarsresort.com
Snug Haven Cottage Resort (Parry Sound, Georgian Bay) 888-342-SNUG
On Georgian Bay, Relaxing family and fishing vacations, Eight 1, 2 and 3 bedroom, clean, comfortable cottages with kitchen and 3 piece bath. Paddleboat, sailboard, sailboat, canoes, and gas barbecues, Play area, Game room with Jacuzzi, pool table, equipped with a kitchen to handle small meetings, family reunions, weddings. Sandy beach, Boat Rentals, Fish for Large Northern Pike, Bass, Pickerel, Lake Perch and Lake Trout www.snughaven.ca
Norsemen Walker Lake Resort (Huntsville) 800-565-3856
A small four season housekeeping cottage resort on a lake with no jet skis, 15 mins from Algonquin Park, Huntsville, major resorts and golf. All cottages are lakefront, some with fireplaces and jacuzzi tubs. The Norsemen Restaurant offers acclaimed fine dining. ....... No TV's Telephones or radios in the cottages for a True Get-Away. Fishing for Bass, Lake and Rainbow Trout.
Algonquin Bound Inn (Dwight, Algonquin) 705-635-1818
Come fish for Algonquin Lake Trout and brook trout. Algonquin Bound Inn is the last stop before the park on Highway 60 and even has its own private bass lake. With rates starting at $95 a night, we provide clean, comfortable rooms and suites. www.algonquinboundinn.com
Loralea Country Inn Resort (Halls Lake, Minden, Haliburton, Dorset) 800 461-6557


Quiet, pet friendly all season lakeside resort with 7 housekeeping family cottages and studio cabins. Lake Trout - The Haliburton Gold is a rare glacial relic fish. Fishing boat rentals from local marina. Docking is available, bring your own boat. Ice fishing in Winter, Ice Hut Rentals available - Hosts Bill and Heather Your Ice Fishing Resort and Our Cottages For Rent Video
Barry's Bay Cottages (Barry's Bay, Algonquin) 800-218-0738
Home to bass and lake trout, Carson Lake and nearby Trout Lake offer visitors a chance to land a lunker. Boat rentals and ice huts available. The nicely renovated cottages and après fishing hot tub are hard to beat. www.barrysbaycottages.com
Northern Walleye Lodge (Dog Lake, Missanabie) 877-434-2440
We are a boat to lodge, with Walleye, Lake trout, Northern Pike, Small Mouth Bass, Perch and some brook trout. 4 hours N.E. of Sault Ste. Marie and 9 hours from Toronto. We have over 1/2 mile of shore line at the lodge. 2850' Meals available. Main Lodge with satellite TV and a small store, 8 cabins and an Island outpost cabin. Small to medium size conference groups welcome. www.northernwalleyelodge.com
Sunny Hill Resort (Barry's Bay, Bark Lake) 800-494-6883
13 km southwest of the Village of Barry's Bay on the east shore of Bark Lake. Nestled amidst acres of Crown Land, Sunny Hill offers the vacationer unspoiled, natural charm in secluded surroundings. Trout, walleye, bass fishing. Cottages, park models and camping. Boat rentals, launch, docks. Heated indoor saltwater pool, hot tub. Beach, leashed Pets Welcome www.sunnyhillresort.com
North To Adventure Mar Mac Lodge-White River Air-Lodge Eighty Eight (Sault Ste. Marie) (705) 759-8577
Fly-in or train-in to 10 000 square mile area north of Lake Superior. Lodges on Esnagi Lake. Fly-in outposts. Fantastic fishing for walleyes, northerns, perch, whitefish, brook and lake trout. Trophy archery, rifle Fall moose hunts. First class accommodations and equipment. Friendly Hospitality for Three Generations! www.northtoadventure.com
Kingfisher Resort (Ear Falls) 800-452-8824
Excellent fishing and accommodations! Resort located on Wabaskang Lake (165 miles north of International Falls). Ten (electric) modern cabins. B.B.Q's,16' boats,20/25 HP. motors. Walleye, northerns, smallies, Lake trout & Perch. Starting $70.00 person/day (cottage, boat, motor and fuel) www.kingfisherlodge.com
Silver Springs Cottage Resort (Elephant Lake, Harcourt) 705-448-2617
5 km from Algonquin Park Trails, Best Muskie fishing, Bass, Northern Pike, Trout, Walleye, Pan Fish. Safe, sandy beach for swimming. motor boat rentals, canoes & paddle boats. Sauna, campfire. Minutes away from groomed ski and snowmobile trails. 1, 2 and 3 bedroom housekeeping cottages. www.silverspringscottages.com
Barry's Bay Cottage Resort (Barry's Bay, Algonquin) 800-218-0738
Tastefully renovated, 2 & 3 bedroom lakefront cottages on beautiful Carson Lake. Close to Algonquin Park. Private decks, docks, fire pits. Hot tubs, fireplaces, satellite TV. Canoeing, fishing, beach, children's play area, ATV, snowmobile trails and more. Pets Welcome. Open year round www.barrysbaycottages.com
Vermilion Bay Lodge (Eagle Lake, Vermilion Bay, NW. Ontario) 888-301-8229
Fabulous Canadian destination for walleye, northern pike, lake trout, smallmouth bass and trophy muskie. With 8 comfortable housekeeping cabins and main lodge overlooking beautiful Eagle Lake. We offer personal service with over 30 years of experience serving fishermen & families. Come "fish, relax & unwind" www.vermilionbaylodge.com
Northridge Inn & Resort (Sundridge) 705-384-2252
An intimate, lakeside, four season retreat only 2 1/2 hours north of Toronto. Exceptional regional dining, white linens, crackling stone fireplaces and wilderness calls, all night long. Lodge Accommodations or Chalets. Wonderful beach, sauna, outdoor hot tub, pool. Conferences, weddings www.northridgeinn.com Winter packages: http://www.northridgeinn.com/winter.shtml Spring, summer, fall packages: http://www.northridgeinn.com/whats_new.shtml
Wilson's Lodge (Muskoka, Huntsville) 800-578-1355
Muskoka, Skeleton Lake. Spacious 2 bedroom housekeeping cottages sleep 4-6 people. Barbeques, picnic tables, canoes, paddleboats, swing set, sand box, ping pong, safe shallow sandy swimming included. Muskoka lodge has B&B accommodation and lounge for TV movies, darts, piano or just relaxing. Family oriented. No pets please. www.wilsonlodge.ca
Minnehaha Camp Resort (Port Loring) 877-933-2267
Family Vacations, Fishing on Wilson Lake, Pickerel River. Walleye, Bass, Northern Pike, Lake Trout, Pan Fish. Swimming, sandy beach, paddleboats, boat and motor rentals. Lakefront self catering cottages with 3 pc bath, kitchen, electric heat, satellite TV. Store for groceries, fishing supplies. Pets Welcome. Open May to October www.minnehahacamp.com
Kanipahow Wilderness Resort and Outpost Camps (Chapleau) 888-643-6678
On the Chapleau River next to the Chapleau Crown Game Preserve, catering to fishing, hunting and outdoor enthusiasts Walleye, Northern Pike, Small Mouth Bass, Lake Trout, Brook Trout Jumbo Perch and White fish, Fully equipped modern housekeeping cottages, Bring your ATV, fully serviced camp ground for RV's, tents and trailers. www.kanipahow.com/
Woodland Echoes Resort (Magnetawan) 888-661-3669



3 1/2 Stars Canada Select Recommended Check out the fishing tips for Ahmic and Cecebe lakes. Follow the links for information on tackle, locations and fishing packages. There is even a link to Ontario Out of Doors' review of Ahmic Lake and photos of our guest's fish. http://www.woodlandechoes.on.ca/ahmic.htm for Fishing tips about Ahmic Lake
Air Ivanhoe (Foleyet) 800-955-2951
Float Plane operation to remote Nemegosenda Lake Lodge where native brook trout and lake trout fishing is mixed in with Small Mouth bass, Northern Pike, Walleye, and Jumbo Perch. American Plan and Housekeeping Plan Packages available. 3,4 or 7 day Fishing trips. Timmins-Chapleau area web site: http://www.Airivanhoe.com E-mail info@airivanhoe.com
Andorra Lodge (Temagami) (705) 569-3288
Combines nature and beauty with peace and solitude. Modern two and three-bedroom "log cabin" cottages, screened-in porches, satellite TV, wood fireplaces. Fish for Lake trout, walleye, pike and bass. Sandy beach, Sauna. Canoe, Kayak, Motor boat rentals. ATV Trails. Excellent Meals in our Lodge. www.andorralodge.net
Indian River Hideaway (Indian River, Peterborough) toll free 866-399-1980
7 minutes east of Peterborough, A quaint little place, Fishing for Bass, Muskie, Walleye (Pickerel), Trout, Perch, crappie. Sandy beach, Comfortable cottages Cabins with kitchens, trailer sites, canoes, Leashed Pets Welcome, Pet Swim area, Children's Play Area, Winter- Ice Fishing www.indianriverhideaway.com
Lakeside Cottages (Lakefield) 705-652-7160
EXCELLENT-Fishing for Muskie, Bass, Pickerel, Perch, Walleye, Carp. Good Advice by owner, cleaning facilities, Rental boats and motors,3 bedrm cottages, clean, spacious equipped kitchen, Gas BBQ, town, shops, nearby. We Welcome Fishing Groups. www.lakeside-cottages.com
Sunny Rock B&B (Minden) 888-786-6976
Not a fishing person? We have the perfect fishing location to bring a fishing partner even though you are not interested in fishing. Sit on our huge deck, reading a good book, enjoying the falls and water view while your fishing partner enjoys a cast in "Brown Trout stocked waters".
www.sunnyrock.on.ca
North To Adventure Mar Mac Lodge-White River Air-Lodge Eighty Eight (Sault Ste. Marie) (705) 759-8577
Fly-in or train-in to 10 000 square mile area north of Lake Superior. Lodges on Esnagi Lake. Fly-in outposts. Fantastic fishing for walleyes, northerns, perch, whitefish, brook and lake trout. Trophy archery, rifle Fall moose hunts. First class accommodations and equipment. Friendly Hospitality for Three Generations! www.northtoadventure.com
Algonquin Woods Cottage Resort (Clear Lake, Emsdale) 705-636-5612
10 quaint, clean and cozy housekeeping cottages on Clear Lake, 15 minutes from Huntsville. A family oriented vacation destination. Fish for small mouth bass, lake trout, rainbow trout. www.algonquinwoods.com
Snug Haven Cottage Resort (Parry Sound) 888-342-SNUG
On Georgian Bay, Relaxing family and fishing vacations, Eight 1, 2 and 3 bedroom, clean, comfortable cottages with kitchen and 3 piece bath. Paddleboat, sailboard, sailboat, canoes, and gas barbecues, Play area, Game room with Jacuzzi, pool table, equipped with a kitchen to handle small meetings, family reunions, weddings. Sandy beach, Boat Rentals, Fish for Large Northern Pike, Bass, Pickerel, Lake Perch and Lake Trout www.snughaven.ca
The Oaks Resort (Tichborne) 613- 279-2986
Located 50 min. north of Kingston. Land O Lakes Region. Seven housekeeping cottages on exceptionally clean Crow lake, 6 km long and connected to Bobs Lake. Sandy beach, playground, fishing for Trout, Pickerel, Walleye, Large and Smallmouth Bass, Northern Pike . Birdwatching, mountain biking, nature walks or just relaxing, then you found the right place! Cooking and Baking Courses with Chef Ludwig Ratzinger. www.theoaksresort.com
Indian River Hideaway (Indian River, Peterborough) toll free 866-399-1980
7 minutes east of Peterborough, A quaint little place, Finest canoe trips in the Kawarthas. Fishing for Bass, Muskie, Walleye (Pickerel), Trout, Perch, crappie. Sandy beach, Comfortable cottages with kitchen and 3 piece bath, Cabins with kitchens, offer cold running water and central hot showers, trailer sites, canoes, Leashed Pets Welcome, Pet Swim area, Children's Play Area, Winter- Snowmobiling - Right on the Trail, Cross Country Skiing, Ice Fishing www.indianriverhideaway.com
Sand Lake Cottages and Inn ( Kearney near Huntsville ) Hosts: Steve & Danette 416-419-3415 or 705-636-5047 Lakefront Cottages 2 1/2 hours north of Toronto. Beautiful sandy shallow beach on a small 4 season family resort. Canoes & pedal boats are free to use. We are 30 min. from Algonquin park & 20 min. from the nearest golf course. Our trails are great for the ATV and Snowmobile. Hunting and fishing is also good to include bass, lake trout, bear, moose and deer. Also this area is great for hiking, biking, walking, canoeing, cross country skiing and dog sledding. Come check out our great spot on Sand Lake. www.sandlake.on.ca
Ten Mile Lake Lodge (Elliot Lake) 705-848-9032 705-848-8036
Privacy in our semi remote, secluded and rustic housekeeping cabins with a beautiful view. Equipped with propane stoves, refrigerators and electric lights. Old fashioned wood heaters. Lake Trout and Speckle Trout, Walleye, bass, Aluminum boats, motors and pontoon boats. Scenic lakes and waterfalls. Resident moose hunting and excellent bear hunting. As well as trophy deer hunting and partridge Email jodemar@sympatico.ca
Maple Brae Cottages ( Emsdale) 705-636-5390
A unique year round cottage resort on Clear Lake, 15 minutes north of Huntsville. 12 clean, well maintained 2 & 3 bdrm. cottages on 8 beautifully treed acres, 350 ft. sand beach. Fully equipped kitchens, log burning woodstove, screened porch, assorted boat rentals. Fishing: Trout, Bass, Splake. Golf, hiking, snowmobile, ski trails. Openings various weeks July/August. www.maplebraecottages.com
Bear Lake Wilderness Camp (Killarney Park) 705-866-7100
Five lakefront cottages on a remote 6 acre island on the north side of Killarney Wilderness Park. Hot showers, sandy beach, sauna, pets welcome, kids are free. Hike - Canoe - Fish over 20 different lakes for Pike, Walleye, Trout, Perch, Smallmouth and Largemouth Bass. Hunt for Bear, Moose, Wolf, Deer, Grouse. Accessible only by boat (25 min.) or plane. Lund Boats and Honda 4stroke motors http://www.blwc.com/
Killarney Mountain Lodge (Killarney) 800-461-1117
Please visit http://www.killarney.com/packages_rates/marina_rates/index.html
Black Bear Camp (Birch Lake, Espanola) 888-440-2887
Housekeeping and American plan cottages, Four season, Pro Bass Fishing, Perch, Pike Lake Trout, Walleye, terrific sand beach, all cottages are waterfront, family oriented, pets allowed, fall deer and bear hunting, ATV trails, Snowmobile trails, Ice fishing
Copyright © 1999- 2017 [Beauview Hospitality Marketing] All rights reserved
Home to Cottage-Resort.com Visit www.BobtheTourist.com
or by Mail to: Gord / Nancy Bell 4215 South Portage Rd.
RR#2 Huntsville, Ontario Canada P1H 2J3