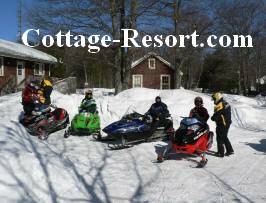 your Easy to Use Directory for Ontario Resorts, Camps, Cabins, Cottages, Inns, Lodges and Cottage Resorts
MORE COMPLETE than Any Other Website

Ontario Snowmobile Adventure Getaways
SEARCH for Ontario Resorts, Inns, Lodges, Cottage Resorts:
Use our Interactive Custom Google Map to see where a Property is Located

North Muskoka Accommodation (Huntsville, Dwight, Algonquin)
15 great lakeside accommodation choices for your perfect Winter getaway. Ski, Skate, Slide, Ice fish or Sled, whatever your winter activity, North Muskoka can accommodate you!
Ahmic Lake Resort (Ahmic Harbour, Almaguin Highlands, Parry Sound Area) 866-857-7946


5 out of 5 Rating Trip Advisor.com only 2 ½ hours north of Toronto, near Parry Sound. Spacious cottages with fireplaces and some with private Hot tubs. Come and relax by the fire, go for a walk, snowshoeing or snowmobiling, direct access to trail C104D, great location for daytrips to French River /Parry Sound or Huntsville Area, snowshoe rentals available , Pets Welcome. Mealplan available. Licensed Restaurant and Lounge on Site. www.ahmiclakeresort.com
Algonquin Woods Cottage Resort (Clear Lake, Emsdale) 705-636-5612
Winter weekends with us on Clear Lake, 15 minutes from Huntsville. Snowmobiling on our doorstep (Trail 96) and downhill & cross-country skiing, snowshoeing, skating, tubing, tobogganing, dog-sledding, all within 10-20 minutes. www.algonquinwoods.com
All-Season Cottage Rentals (Haliburton Highlands) 705-754-1506
We offer over 640 km of groomed snowmobile trails. Trails can be accessed directly from most of our cottages. A wide selection of privately owned lakeside cottages ranging from luxury executive cottages to basic waterfront cabins. Fully equipped kitchens, BBQ, TV/VCR, telephone, fireplace. Some include washer/dryer, dishwasher, row boat, canoe, paddleboat, plus more. www.haliburtoncottages.com
Andorra Lodge (Temagami) (705) 569-3288
Combines nature and beauty with peace and solitude. Modern two and three-bedroom cottages, satellite TV, wood fireplaces. Ice Fishing for Lake trout . Sauna. Snowmobile Trails. Excellent Meals in our Lodge. www.andorralodge.net
Back Country Tours Executive Cottages (Haliburton Highlands) 1.888.955.9076
These romantic executive cottages for two, are new and ready for couples looking for a romantic snowmobile getaway. Granite, Roman Bath Fire Place Hot Tub. Located in Haliburton perfect Snowmobiling Destination, Adjacent to OFSC Trail B103 and number 9 http://www.backcountrytours.ca/private-cottage-rental.php
Balsam Resort (Rosedale, Fenelon Falls) 800-561-5040


2 1/2 Stars Canada Select Recommended 2 hours from Toronto, Gentle sand beach, Clear, clean lake, tall pines, Gorgeous sunsets. A fine quality self catering resort on Balsam Lake, Trent Severn Waterway, Studios, Apartments, townhouses, or chalets, Winter: Cross Country Skiing, Snowmobiling and ice skating www.balsamresort.com
Barry's Bay Cottages (Barry's Bay, Algonquin) 800-218-0738
Now offering snowmobile rentals, Barry's Bay Cottage Resort is the ideal winter destination found next to the B102 trail system. Featuring your own private outdoor hot tub there is no better way to relax after a day on the trails. www.barrysbaycottages.com
Bayview Wildwood Resort Port Stanton, Muskoka 800-461-0243


4 out of 5 Rating Trip Advisor.com Located in Port Stanton, just 90 minutes drive north of Toronto on Sparrow Lake. Port Stanton is an exciting four season destination offering first class resort vacations, conference facilities, luxury cottage rentals and fractional cottage ownership.
Bevaline Cottage Resort (Barry's Bay, Trout Lake) 1-888-205-7912 1 613 756 2614
Open Year Round 1/2 hour from Algonquin Park. Modern cottages and cabins, campsites, friendly pets are welcome, Winter activities include Ice fishing, snow mobile trails close by, down hill skiing and snow boarding at the ski hill in Barry's Bay. www.bevalinecottageresort.com
Birch Lodge (Blind River) Toll-Free: 866-807-3334
4 season Cottage Resort on Granary Lake (Magog Lake) surrounded by mountains and beautiful scenery. Fully equipped cottages, wood-burning stoves for heat, propane BBQ, 870 feet of shoreline, sandy beach area, great swimming, canoeing and boating, hiking or mountain biking on the trails, ATV trails and Guided Tours. Fishing and hunting. Winters offer ice-fishing, snow shoeing cross-country skiing, and snowmobile trails www.birchlodge.ca
Birchwood Cottages (Nipissing) 705-724-2935
Snowmobile Paradise D102C trail closeby Private, quiet place, access South River to Lake Nipissing, Very clean, two winterized cottages, featuring kitchen-living room and four piece bath, electric heat, colour TV. Know you can expect the peace of nature www.birchwood-cottages.com
Blue Moon Retreat (Bancroft/Barrys Bay, Algonquin Park) 800 659 9448
6 cottages; peaceful lake; personal hot tubs, saunas, Jacuzzis, water trampoline, kayaks, canoes, paddle boats, fireplaces, AC, DVD players, wireless internet & more all at no extra cost. 4 for 3 and 3 for 2 Specials even in summer high season. A few openings for early half of July Click here to see vacancies.
Blue Spruce Resort (Oxtongue Lake) 705-635-2330
Casual, warm, friendly atmosphere A 4 season Luxurious housekeeping cottage resort 5 minutes from Algonquin Park. Cottages, studios and suites, kitchens, fireplaces, TV/VCR. Studios and suites are air conditioned. Some cottages have jacuzzi tubs, tennis, sandy beach, boats, waterskiing, Winter cross country ski trails, toboggan hill, snowmobile trails at your door
Blue Water Acres (Dwight, Muskoka) 800-461-4279
Modern lakeside cottages, about 2 1/2 hours drive North of Toronto. 1, 2 & 3 bedroom cottages, well spaced providing lots of privacy. All have kitchens, wood burning fireplaces, and charcoal BBQ. Indoor pool, sauna, whirlpool, Winter activities. Only 15 minutes from Algonquin Park. www.bwacres.com
Bondi Village Resort Dwight, Muskoka 888-300-2132
SNOWMOBILING SEASONAL RENTAL : Private three bedroom housekeeping cottage accommodates 6. Good trail access, parking, four piece bath, full size kitchen, electric heat and wood fireplace. $2500 plus utilities, Jan 1 to Mar 17. Contact Brian or Carol www.bondi-cottage-resort.com
Bonnie View Inn (Haliburton, Lake Kashagawigamog) 1 800 461 0347
Two hours from Toronto, Timeless beauty and luxurious comfort. Family vacations, golf, heavenly spa escapes, romantic weddings, honeymoons, resort conference facilities. Jacuzzi Suites with fireplaces, private lakefront cottage rentals, hiking trails, golf packages, sand beach, gourmet dining in a beautiful lakeside dining room. ATV Trails, Winter snowmobile and ski www.bonnieviewinn.com
Booker's Clear Lake Cottages (Emsdale) 705-636- 5354
15 minutes north of Huntsville, Muskoka. Twelve 2 & 3 bedroom cottages with kitchen, some with wood fireplace, or gas fireplaces, 3 piece bath, some with TV, VCR, cable. Snowmobile trails are open and groomed! Located on Trail 95 & TOPS trail D. 2 and 3 bdrm cottages available starting at $110 per night. All cottages are non smoking www.clearlakecottageresort.com
Bruce Bay Cottages & Lighthouse (Bruce Mines ) 705 -785-3473


4 1/2 out of 5 Rating Trip Advisor.com - Escape to Nature snowmobile, snowshoe and play in the snow. Stay in housekeeping lighthouse and accommodations with staging areas located on Top D 136 trail. 35 minutes from Sault Ste Marie International Bridge. *Reservations required.* www.brucebaycottages.com

Buttermilk Falls Resort Minden, Haliburton 705-489-1904
Year round self catering Cottage Resort, on Boshkung Lake, 3piece bath, electric heat, fireplaces, deck with gas BBQ grill, Winter: cross country and downhill skiing, snowmobile trails, ice fishing and ice skating

Cedars of Lake Eugenia (Flesherton, Beaver Valley) 800 747-7014

4 1/2 out of 5 Rating Trip Advisor.com Clean, comfortable housekeeping cottages and chalets, fully equipped kitchens, bedding included, cable tv, fireplace, firewood included, electric baseboard heating. Cedars is 5 minutes from the OFSC B111 Trail. Enjoy the country. Cottages from $115.00 per night, chalets from $195.00. www.cedarsresort.com

The Clansman Motel & Cottages (Minden, Haliburton Highlands) tollfree 866-502-5558
Open Year Round on Boshkung Lake, Overnight & Weekly Motel Units, Individual one, two and three bedroom Housekeeping Cottages, Motel Rooms, Canoes/Row Boats and Paddle Boats complimentary, Motor Boat rentals. Sandy Beach, Playgrounds, Hot Tubs, Ice fishing packages & Huts available for Winter Ice Fishing www.theclansman.com

Clear Lake Village Resort (Bala, Muskoka)

1-888-663-4346


Enjoy our year round 3 bedroom cottages with fully equipped kitchens, living and dining areas, and satellite TVs. Located adjacent to snowmobile trail C101D or enjoy cross country skiing from your doorstep, throughout our 12 acre property…and beyond. www.clearlakevillageresort.com

Clearview Cottages (Emsdale, Huntsville, Muskoka) 705-636-1216
Affordable family accommodations, located on Clear Lake, just north of Toronto. Enjoy a variety of winter activities including snowmobiling (we are located on OFSC trail #95), cross-country skiing, tubing, skating, snowshoeing and winter hiking at nearby Arrowhead Park, skiing and/or snowboarding at Hidden Valley Highlands Ski Area. www.clearviewcottages.com

Colonial Bay Cottages Huntsville 800-916-2008