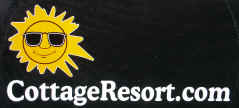 your Easy to Use Directory
for Ontario Resorts, Camps, Cabins, Cottages, Inns, Lodges and Cottage Resorts
MORE COMPLETE than Any Other Website
SEARCH for Ontario Resorts, Inns, Lodges, Cottage Resorts:
Use our Interactive Custom Google Map to see where a Property is Located

North Bay, Callander - 3 1/2 - 4 hours north of Toronto Northern Ontario
Ahmic Lake Resort (Ahmic Harbour, Almaguin Highlands, Parry Sound Area) 866-857-7946


5 out of 5 Rating Trip Advisor.com only 2 ½ hours north of Toronto, near Parry Sound. Newly renovated lakefront and lakeview cottages, fully equipped, some with private hot tubs. Lot's of amenities like swimming area with water park, boat rentals, kayak and canoe rental, adventure playground, volleyball, Ping Pong, horseshoe pits, hiking trails, fishing, etc., Pet Friendly ,Weddings, Meetings, licensed restaurant and lounge, convenience store on site. www.ahmiclakeresort.com
Andorra Lodge (Temagami) (705) 569-3288
Combines nature and beauty with peace and solitude. Modern two and three-bedroom "log cabin" cottages, screened-in porches, satellite TV, wood fireplaces. Fish for Lake trout, walleye, pike and bass. Sandy beach, Sauna. Canoe, Kayak, Motor boat rentals. ATV Trails. Excellent Meals in our Lodge. www.andorralodge.net
Birchwood Cottages (Nipissing) 705-724-2935
Private, quiet place on South River to Lake Nipissing, Very clean, two and three bedroom cottages, featuring kitchen-living room and four piece bath, electric heat, colour TV, Boat rentals, barbecues, docking, playground, firepits and firewood, picnic tables, volleyball and basketball, Fishing for muskie, pickerel, walleye. Know you can expect the peace of nature www.birchwood-cottages.com
Deluxe Camp (West Nipissing) 1 866-424-6343


4 1/2 out of 5 Rating Trip Advisor.com We are a family/fishing camp with nine equipped clean waterfront cottages, Amenities include: pool, bonfire area, children's area, fish cleaning hut, boat and pontoon rentals. Each cottage has a dock, BBQ, picnic table, deck with a view of the lake. Pets Welcome. Availability and Online Reservations Open May - October Https://DeluxeCamp.com
Falcon's Lair Cottage Resort (Golden Valley, Port Loring) (705) 757-5432
Are you looking for a great location to have that memorable family vacation? A place to have that fishing trip with the boys? A girls getaway? Come to Falcon's Lair Resort! Beautiful scenery, great fishing, comfortable, clean cottages, and so much more!! Pets Welcome. May - October www.falconslairresort.com
Pine Grove Resort Cottages (Port Loring) 877-899-9305
Six 2 bedroom and two 3 bedroom cottages as well as "The Farm House" Each cottage has a 4 piece bath, kitchen with fridge, stove, microwave, coffee maker, gas barbecue, wood burning fireplace/stove Fish species: Walleye, Bass (small & large mouth), Northern Pike, Crappie and Pan Fish. Boating, fishing, canoeing and swimming, 200 acres with groomed walking trails. Pets Welcome www.pinegroveresort.com/
Promised Land Camp (Lake Nipissing - South Shore) 1-705-724-1648
Great Fishing for Walleye, Pike, Bass, Muskie, and Panfish. Beautiful sandy beach, water trampoline, fishing boats, soccer pitch, volley ball court and playground. Hiking trails. Clean and well maintained cottage resort on the south shore of Lake Nipissing. Well appointed 2, 3 and 4 bedroom cottages . Please visit our web site, take a virtual tour of our facilities, then just call our office and make the arrangements. www.promisedlandcamp.net
Sid Turcotte Park (Mattawa) 705-744-5375
Superb Cedar Cottages with over 2000 feet of water front, a fabulous destination where you can enjoy fishing, boating, swimming, hiking, ATVing, golfing, shopping and more. We have beaches, playgrounds, high dive, water log, boat rentals. Open year round, our cottages have all the comforts of home! www.sidturcottepark.com
Sunbeam Bungalows (Callander) tollfree 877- 298-9998
Family & Fishing Resort on Lake Nipissing; 1, 2, or 3 bedroom clean, spacious, fully equipped cottages; Swimming, safe sandy private beach, canoes, kayaks, great sunsets, beach bonfires; Boat & Motor rentals, marina; Fishing for pickerel (walleye), northern pike, muskie, small mouth bass. www.sunbeambungalows.com
All Year Long! - Activities and Experiences:
Winter Getaways Specials
Dog Sled
Snowmobile SKI Snowboard Snowtube Ice Fishing
Spring Getaway Specials
Fall Vacancies
Thanksgiving
Summer Short Stays
Fun and Sand Summer Vacations
Family Vacations

Vacations with Babies, Toddlers, Children
Fall Fishing
Muskie
Walleye
Carp
Bass
Panfish
Pike
Salmon
Trout
Fly in & Remote Outposts
Kid's Fishing
Learn To Fish
Guided Fishing
Romantic Getaways, Honeymoons, Hot tubs, jacuzzi tubs, sauna, pool fireplaces
Weddings, Meetings, Conferences, Conventions, Family Reunions
Retreat & Spa Getaways
Bilingual in French and English
Northern Ontario -

we're not far away!
Luxury Vacations
ATV Adventures
Hunting Getaways
ACTIVE Vacations: Bike, Walk, Hike, Bird Watching, Canoe/Kayak Getaways
Cottage Resorts with Trailer Sites

Limited Handicapped Facilities
Learning Vacations, Theatre & Eco Tours

Copyright © 1999- 2020 [Hospitality Marketing] All rights reserved
Contact us at:
email:gordon@cottage-resort.com