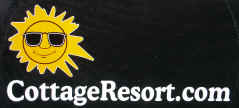 your Easy to Use Directory
for Ontario Resorts, Camps, Cabins, Cottages, Inns, Lodges and Cottage Resorts
MORE COMPLETE than Any Other Website


SEARCH for Ontario Resorts, Inns, Lodges, Cottage Resorts:
Use our Interactive Custom Google Map to see where a Property is Located

Sudbury, Espanola Northern Ontario
Air Ivanhoe (Foleyet) 800-955-2951
Air Ivanhoe offers 21 high quality fly in outpost cabins for Walleye and Northern Pike as our primary fish. We are renowned for our fantastic fishing and hunting experiences. Timmins-Chapleau area
web site: http://www.Airivanhoe.com E-mail info@airivanhoe.com
Bear Lake Wilderness Camp (Killarney Park) 705-866-7100
Five lakefront cottages on a remote 6 acre island on the north side of Killarney Wilderness Park. Hot showers, sandy beach, sauna, pets welcome, kids are free. Hike - Canoe - Fish over 20 different lakes for Pike, Walleye, Trout, Perch, Smallmouth and Largemouth Bass. Hunt for Bear, Moose, Wolf, Deer, Grouse. Accessible only by boat (25 min.) or plane. Lund Boats and Honda 4stroke motors http://www.blwc.com/
Birch Lodge (Blind River) Toll-Free: 866-807-3334
4 season Cottage Resort on Granary Lake (Magog Lake) surrounded by mountains and beautiful scenery. Fully equipped cottages, wood-burning stoves for heat, propane BBQ, 870 feet of shoreline, sandy beach area, great swimming, canoeing and boating, hiking or mountain biking on the trails, ATV trails and Guided Tours. Fishing and hunting. Winters offer ice-fishing, snow shoeing cross-country skiing, and snowmobile trails www.birchlodge.ca
Deluxe Camp (West Nipissing) 1 866-424-6343


4 1/2 out of 5 Rating Trip Advisor.com We are a family/fishing camp with nine equipped clean waterfront cottages, Amenities include: pool, bonfire area, children's area, fish cleaning hut, boat and pontoon rentals. Each cottage has a dock, BBQ, picnic table, deck with a view of the lake. Pets Welcome. Availability and Online Reservations Open May - October Https://DeluxeCamp.com
Killarney Mountain Lodge (Killarney) 800-461-1117
Georgian Bay and Killarney Provincial Park remain one of Canada's premier outdoor destinations. A casual, friendly place with delicious home-cooked food. Cabins, Rooms, Suites or Chalets, Heated Pool, Sauna, guided canoe and sea kayak trips, hike and paint or photograph with professionals. Board our 46 ocean-going sailing sloop "Stormy Night" for a cruise. www.killarney.com
The Lodge at Pine Cove (Noelville) 705-898-2500


5 out of 5 Rating Trip Advisor.com Discover the French River - Luxury on the Canadian Shield. If you've never been, it's time. Be romanced by this magical place. Sleep in, snuggle, have breakfast on the porch. Picnic, paint, write your first novel. Canoe, kayak, hike, fish from your doorstep. www.frenchriver.com/
Moose Horn Lodge (Chapleau) Toll Free 877-864-5416 SAFE TRAVELS STAMP


4 1/2 out of 5 Rating Trip Advisor.com 4 hours drive from Michigan and 9-10 Hours from Toronto and... its worth it! On beautiful McLennan Lake, remote wilderness region, Chapleau Crown Game Preserve, Log style Housekeeping cottages, Motel Units with efficiency, 4 piece bath, beach, playground, canoe, paddleboat, Black Bear Viewing, ATV Trails, Bear and Moose hunting, some of the best Walleye, Northern Pike, Whitefish and Brook, Speckled Trout Fishing in Canada!, a big Hot Tub on the water's edge, steam Sauna www.moosehorn.net
Pine Lake Camp (Loring) 705-757-1170
Open Year round, Private, Lake Access only, 1 1/2 hours North and East of Parry Sound, Log cabin sleeps six people, woodstove, kitchen, 2-pc. washroom. Lodge (Cabin #5) has 18 beds, sleeps up to 24, kitchen. A refurbished cabin is completely insulated wood stove, electric heat, 3-pc. bathroom, kitchen, for four people, screened porch, deck. New central showers. FISHING: large and small mouth bass, walleye, pike, crappie, pan fish. Boats and motors. Canoe, paddle boat. Organized deer hunts. Bear, moose, ducks, partridge. Winter: Snowmobiling, Ice Fishing, Cross Country Skiing

Wolseley Lodge
(Noelville) 800-488-4964
at the lower French River. We offer the most complete American Plan. Licensed restaurant, boat rental, fishing guides, beach, playground and sixteen fully equipped cabins for American Plan and Housekeeping. Enjoy fishing on the world known French River for Walleye, Muskie, Northern Pike, Bass etc. and we take care of the rest.
www.wolseleylodge.com

Copyright © 1999- 2020 [ Hospitality Marketing] All rights reserved