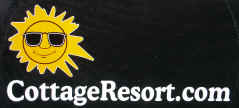 your Easy to Use Directory
for Ontario Resorts, Cottages, Inns, Lodges and Cottage Resorts
MORE COMPLETE than Any Other Website

Click here for Ontario
Gravenhurst, Muskoka
Ontario vacations
Resort accommodations in Ontario
Vacation planning & packages
Gravenhurst, another four season destination, is located in the Muskoka district, approx. two hours north of Toronto. There are many resorts, lodges and cottage rental accommodations to stay at for your vacation.
Hardy Lake Provincial Park is close to Gravenhurst, it is a Natural Environment Park that provides hiking and canoeing only. It contains gorgeous wildlife and and natural vegetation.
At The Gravenhurst Opera House you can enjoy live theatre and music, it operates year-round. The Muskoka Wharf was once home to many lumber and boat building industries and was also the entry point to the lakes. Today it offers retails stores, eateries, events, the Muskoka Boat & Heritage Centre and the opportunity to travel on North America's oldest operating steamship, The Segwun. An ideal place for your Ontario vacation.
Bayview Wildwood Resort (Port Stanton, Muskoka) 800-461-0243


4 out of 5 Rating Trip Advisor.com Located in Port Stanton, just 90 minutes drive north of Toronto on Sparrow Lake. Port Stanton is an exciting four season destination offering first class resort vacations, conference facilities, luxury cottage rentals and fractional cottage ownership.

Click here for Arts & Crafts
Click here for Factory Outlets
Click here for Golf Courses
Click here for Antiques
Click here for Attractions
Copyright © 1999- 2019[ Hospitality Marketing] All rights reserved
Visit www.BobtheTourist.com